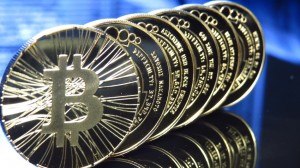 Just this week, the U.S. Commerce Department revised downward its growth estimate for the U.S. economy as gross domestic product (GDP) shrank at a 1.0 annual rate. I would say this is yet another indication that here we are more than five years since the economy tanked and things aren't really getting that much better!
This got me a little worried about my financial planning for the future and so I started thinking about what I can do to make smarter long-term investment strategies. As a result, I came across an interesting currency alternative in Bitcoin.
Bitcoin, the digital currency that's been making all the headlines recently, has a lot of advantages to traditional currencies. For starters, there's no authority such as the Fed to inflate or deflate the currency. Also, the administrative fees for processing transactions are low compared to traditional currencies. With Bitcoin, you have complete freedom and control of your currency, since it's possible to send and receive any amount instantly, anywhere in the world. Finally, Bitcoin allows for completely anonymous and untraceable trading.
What's BTC Robot?
What makes "BTC Robot" so intriguing is that it's a fully automated Bitcoin trading platform. Its gives users an edge through computerized trades and analysis of market trends and fluctuation rates. In short, the whole idea behind the program is that the software does all the hard work for you. For obvious reasons, this can be a huge advantage over manual trading.
So what do you actually get with BTC Robot?
Well, there are three different plans available…
The Silver Plan: With this plan, you can make a one-time payment, download the software onto your computer and keep your computer running for the software to make trades for you. I would say this is an option that is probably more attractive to those of you who just want to give the program a test run to see if it's worth the investment.
The Gold Plan: With this plan, you get a one-year subscription and the software is pre-installed in the cloud, which you can access through your browser through a secure members area. This obviously has an advantage over the Silver Plan since you don't need to have your computer running for the software to work for you.
The Platinum Plan: With this plan the software is pre-installed with cloud hosting and you get a three-year subscription. Like the Gold Plan, the software does the work for you from the cloud so there's no need for your computer to be running, which is obviously a great feature from a strict volume of trades perspective. Also, with this plan, you get priority one-on-one support. I would say that with the extras you get with this plan, it's the best value for your investment.
The Good…
What I like about BTC Robot is that it the software does the hard work for you and all you have to do is be able to follow some simple set-up instructions. With all the advantages Bitcoin currency has over traditional currencies, I would say this is absolutely worth checking out.
The Bad…
Bitcoin, is still in beta and not yet fully mature, so there's an inherent risk. I would say this is offset by the huge potential that this virtually open-source currency has to offer as highlighted above. At the very least, it's worth checking out as an alternative to traditional currencies.
Conclusion
In the end, I would highly recommend this for anyone who's looking to get started with investing in Bitcoin.
Click here to get BTC Robot now…
Risk Disclosure
READ THIS BEFORE CONSIDERING ANY INVESTMENT RECOMMENDATIONS: TRADING IS A CHALLENGING OPPORTUNITY WHERE ABOVE AVERAGE RETURNS ARE AVAILABLE FOR EDUCATED AND EXPERIENCED INVESTORS WHO ARE WILLING TO TAKE ABOVE AVERAGE RISK. ALL FORMS OF TRADING CARRY A HIGH LEVEL OF RISK AND MAY NOT BE SUITABLE FOR ALL INVESTORS. Read More…