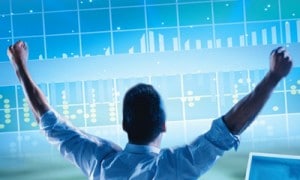 Binary options investing is an alternative investment opportunity that has been gaining popularity among investors in recent years.
What makes binary options attractive is that they're incredibly easy to understand.
Another reasons investors have been flocking to binary options is that there's an opportunity to make huge returns in a very short amount of time.
As the world becomes more interconnected globally, more and more investors are realizing some of the benefits of binary options. You can trade anywhere, at any time, which means, so long as you have a laptop or a mobile device and an internet connection, you can make trades.
The thing about binary options that investors need to understand that this is an unregulated investment option—the markets are unregulated outside the U.S.   For this reason, traders need to do their research to make sure that they do not become the victims of dishonest brokers who engage in shady trade practices.
The risks and the rewards are easily identifiable to you before you make any trades. I would say this is a huge benefit. To make trades on multiple asset classes in the global markets at anytime is an amazing opportunity. It surely is a signal that the advent of the internet along with the increasing interconnectedness of the global economy is fundamentally changing the way we do business and the way we chose to invest.   It is bound to become more and more mainstream in the coming years!
The bottom line is binary options are a great alternative for investing, but they come with advantages and disadvantages—as with any investment opportunities. So long as you do your research and make sure that whoever you chose to work with as your broker, it can be a great investment opportunity.